Road Weather Equipment
RWIS Road weather station
The MeteoSense PRO weather station takes advantage of high quality sensors, such as road surface analysis, low visibility detection and real-time environmental and weather monitoring.
Meteorological sensors (temperature and air humidity, wind direction and intensity, pressure)
Precipitation Sensors (type and intensity of precipitation), optical or radio frequency Road sensors (passive and multi-parametric)
Visibility Sensors.
How it works: the stations acquire data (with selectable interval between 1 and 60 minutes) and send them to the central system via TCP / IP (GPRS, UMTS, LAN, fiber etc.). All the information is presented to operators in a control room through advanced graphic user interface, accessible in the intranet and optionally via internet, also on smartphones and tablets.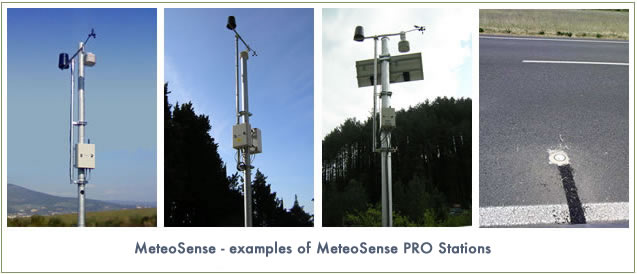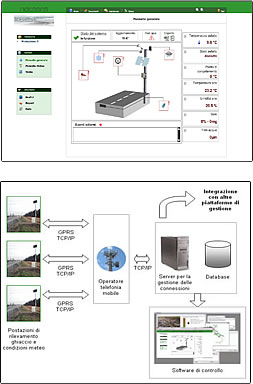 METEOSENSE PRO SENDS ALL DATA IN REAL-TIME Centraline meteorologia stradaleThe TCP / IP to central system communication is enabled with the embedded GPRS / EDGE modem, or through external routers. All data is sent in real time to a central infrastructure (Control Center), which manages the connection and data transfer from the stations, and features data storage in databases, as well as data presentation in graphical format. The data format can be "open" (i.e. XML, CSV) or custom. LiveData software suite can be installed in the central system, whose reliability and stability is demonstrated by years of uninterrupted operation, which includes: management of communication process with the weather stations software for data pre-processing and generation of alarms database storage user interface software algorithms for data processing (averaging, statistics etc.) sending alarms (fax, email, SMS). The system architecture also allows you to forward the received data from workstations to other monitoring and management platforms, through the implementation of appropriate data exchange protocols machine-to-machine (eg. XML).
ICESENSE ICESENSE -
THE RWIS DESIGNED FOR ROAD STATUS SURVEILLANCE
The IceSense version has been specifically designed for road status monitoring, and configured for critical situation management. The adoption of advanced road status sensors (measuring critical parameters such as road temperature, ice or snow detection, freeze point, salt detection and concentration etc.) is integrated with a robust real-time TCP-IP connectivity and a dedicated user interface, and defines a new standard for integrated RWIS solutions. Data are displayed using both graphical and intuitive controls, and a synoptic representation highlights critical conditions to the Operators, allowing the Control Room to coordinate salt spreaders vehicles and providing them a real time feedback about the effectiveness of their intervention, by directly measuring road conditions. Optionally, a photovoltaic kit is available, including solar panels and rechargeable batteries. This allows to better choose installation site and to reduce its costs, where no dependency from fixed power network is requested for normal operation.
MeteoSense PRO weather station includes following equipment:
Main unit, in IP67 rated metal enclosure, with electronic devices for sensor data acquisition, GPRS/Ethernet communication, on-board interfaces (USB, RS422, RS485), power management and solar panel charging (if available)
Standard weather sensor set (including wind speed, rain, air temperature and humidity, air pressure) (Optional) one or more road surface sensor, installed in the roadway and cabled to main unit
Other specific sensors (visibility, precipitation etc.) installed on main pole.
TECHNICAL SPECIFICATION
MeteoSense PRO main unit:
Communication interface: GPRS, LAN, MODBUS RTU (RS485)
Configuration interface: USB
Mass storage: SD card, 4 GB
Operating temperature: -30 °C +70°C
Housing: IP66 steel box
Certifications: CE, UL, EN 60950, EN 50021, IEC 60947, VDE Centraline meteorologia stradale
SENSOR SPECIFICATIONS
The following specifications are for a standard equipment; customizations are possible on customer's request
Temperature: range -30°C +70°C; accuracy ± 0.2°C; resolution 0.1°C
Relative humidity range: 0 – 100 % RH; accuracy ± 2%; resolution 0.1%
Wind speed: range 0.4 – 60 m/s; accuracy 0.2 m/s, resolution 0.1 m/s
Wind direction: range 1-360 °; threshold: 0.4 m/s; accuracy ± 3°; resolution 1°
Visibility: range 10 m – 10 km; accuracy: 10 % RMSE
Rain gauge: classification rain, snow, drizzle, hail, iced rain; measurement range: 0 .. 200 mm/h
Road surface: dry, wet, dump, ice, snow, salt
Road surface temperature (-30°C +70°C) accuracy ±0.2°C -10.0°C to +10.0°C (±0.5°C outside the range)
Road surface icing point: -20°C – 0°C
Road surface water film thickness (0 – 4 mm)